Iran Trade Statistics
Total Exports from Iran (millions)
2010
2011
2012
2013
2014
2015
2016
World (€)
50,083
49,505
49,570
40,759
53,960
52,783
57,955
US ($)
95
1
2
2
-
11
88
France (€)
849
1,747
128
283
29
31
1,369
Germany (€)
854
716
313
256
280
316
289
UK (€)
218
420
137
32
40
32
55
Italy (€)
4,745
5,327
2,240
137
441
469
1,050
EU (€)
14,528
17,329
5,652
783
1,158
1,235
5,515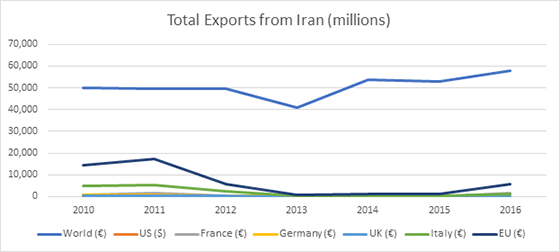 Total Exports to Iran (millions)
2010
2011
2012
2013
2014
2015
2016
World (€)
64,311
80,248
64,658
47,991
48,197
35,785
42,685
US ($)
211
233
251
313
187
282
172
France (€)
1,787
1,670
803
494
454
562
722
Germany (€)
3,786
3,082
2,524
1,840
2,380
2,050
2,583
UK (€)
327
204
120
89
114
123
171
Italy (€)
2,059
1,863
1,407
1,056
1,155
1,195
1,542
EU (€)
11,319
10,497
7,379
5,446
6,424
6,454
8,248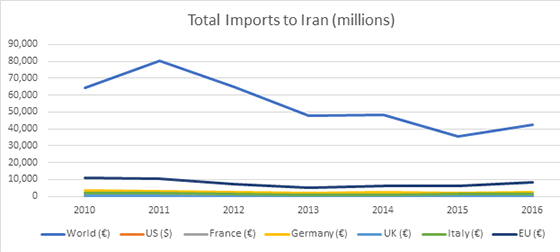 Sources: Click Here (PDF), Click Here (PDF)
After the lifting of the sanctions in January 2016, Iran has seen many European trade delegations visiting the country and is trying to regain its tradition clients like Greece and Italy as a priority.
We can see from these tables that the UK is trading significantly less with Iran than its European counterparts.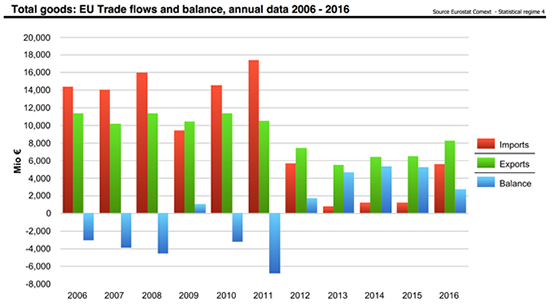 Green : Imports to EU from Iran
Red : Exports from EU to Iran
Source: Click Here (PDF)
The United Arab Emirates and China are now Iran's main trade partners, accounting for 23,6% and 22,3% of Iran's trade respectively.
The EU only ranks as the fifth trade partner of Iran, accounting for 6,0% of Iran's trade. The EU used to be the first trading partner of Iran before the current sanctions regime.
Balance in trade with Iran was €2,7 billion in 2016. Trade balances for the previous 10 years with Iran were mostly negative (except for 2009).
The EU exported over €8,2 billion worth of goods to Iran in 2016. EU exports to Iran are mainly machinery and transport equipment (€3,8 billion, 46,2%), chemicals (e1,8 billion, 22,2%), and manufactured goods (€0,7billion, 8,8%).
The EU imported almost €5,5 billion worth of goods from Iran in 2016. Most EU imports from Iran are energy-related (mineral fuels account for €4,2 billion and 77,0% of EU imports from Iran), followed by manufactured goods (€0,4 billion, 8,5%), and food (€0,3 billion, 6,8%).
In 2016, EU imports from Iran increased by 344,8% and EU exports increased by 27,8%.
Source: Click Here (PDF)