Upcoming Events
Sir Richard Dalton will be a key note speaker at the Iran Petrochemicals Value Chain Summit on 6th-7th July 2017 to be held in Vienna. Click here for details
---
A Message From Our Chairman
The latest UK government figures indicate that from January to October 2016 the value of UK exports to Iran had continued to rise, representing a 42% increase on the value of exports in the same period in 2015. Published trade figures do not take into account exports through a third country (for example, Turkey) and must be seen in the context of the low level of existing trade with Iran. However they were pointing in the direction of a continuing improvement in UK – Iran trade levels prior to the US election in November.
The main problem in increasing British Iranian trade lies in the absence of banking facilities because of the fear by European banks of American primary sanctions against Iran which were retained even after the JCPOA deal. Until the American election there were indications that some UK banks were willing to handle direct transactions with Iran under certain conditions. Since then attitudes of the banks seem to have become more cautious and restrictive. This means that, for the moment, those companies intending to trade with Iran will need to construct specific payment routes through banks in other parts of the world rather than expect payment under specific contracts with Iran to come directly into UK bank accounts.
The JCPOA is an agreement worth having for its own sake even if it does not lead to an immediate dramatic change in Iran's relations with the West. It does at the very least reduce the risk of nuclear proliferation and as such is a real gain. Since the American election the other signatory Governments to the agreement have strongly supported its continuation. However the specifics of President Trumps policy on Iran trade remain unclear. We will continue to monitor events.
It is clear that Iranian private and public sector organisations wish to trade with the UK and respect this country's strengths in the field of quality engineering and design in the aerospace, automotive, oil and gas and healthcare sectors, amongst others. Decisions taken in the coming months will shape the scale and nature of our trade with Iran well beyond the time when the UK will have left the EU.
I can assure you that your Chamber is in constant dialogue with the Government about how to increase trade between the two countries. We will continue to lobby to find solutions to the problems of trade with Iran, including especially the financing of that trade.
Lord Lamont - February 2017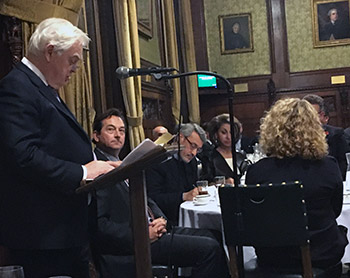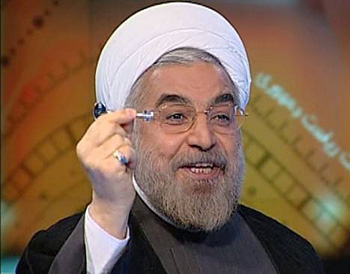 The Directors and Members of the British Iranian Chamber of Commerce congratulate President Rouhani on his re-election as President of the Islamic Republic on 19th May. We note that he won a higher majority of the popular vote (57.3%) on a higher voter turnout (41.2 million) than when he was first elected in 2013. President Rouhani's re-election underlines Iran's foreign policy of engagement with the rest of the world, expressed in the signing of the nuclear deal in 2015.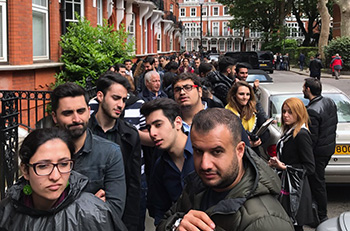 And voting was active at 11 voting centres in the UK (5 in London and 6 elsewhere including in Manchester, Cardiff, Birmingham and Glasgow). Over ten thousand votes were cast in polling stations in the UK – 94% in favour of President Rouhani. This is a picture of the queue outside the Iranian Consulate in London, where queuing time was reported to be some 1.3 hours from 9am to 6pm.
---
UK Iranian Trade News
---
Latest OFAC guidance on trading with Iran
The US Treasury Department has updated it's guidance on due diligence and USD-Denominated transactions.
Among other things, the amended FAQ's provides additional guidance to non-US persons seeking to carry out due diligence on a potential Iranian counterparty. It also brings some very welcome clarity to non-US financial institutions looking to enter into USD-Denominated transactions with Iranian entities who are not on the Specially Designated National (SDN) List.
Click here to download an explanation by Nigel Kushner of WLegal
BICC News
1st May 2017: Financial Tribune - Iran Courting UK Investment Banks to Attract Foreign Investment
16th April 2017: The Telegraph - UK cautiously eyes $600bn opportunity in Iran investment drive
12th April 2017: Financial Tribune - Interview: British Trade Envoy Gauges Iran Ties
1st February 2017: Lord Lamont gives evidence on the transformation of power in the Middle East and the implications for UK foreign policy to the House of Lords Select Committee on International Relations. click here to download PDF of transcript.
24th October 2016: John Kerry and Mohammad Javad Zarif named winners of the Chatham House Prize 2016 click here to read more.
8th October 2016: U.S. Loosens Iran Sanctions to Smooth Dollar Transactions:- click here to read more.
On Monday 3rd October 2016, NIOC announced that it had sold Iran's first cargoes of natural gas condensate and crude oil to British companies, with discussions under way to agree long term contracts. click here to read more.
---
Join the BICC
Priority Networking.
Business Information.
Trade Delegations.
Visa Support.
Download Membership Application Form
---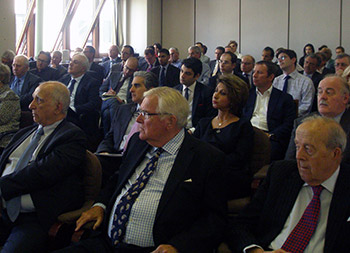 ---
Trade Restrictions on Iran
BICC requires all Members, as a term of Membership, to observe applicable UN, EU and UK sanctions and recommends that they take account of US and other sanctions law where it might affect them directly or indirectly.
BICC is able to provide understanding of the sanctions and help in compliance.
For a comprehensive view on this subject, please go to our trade restrictions page.