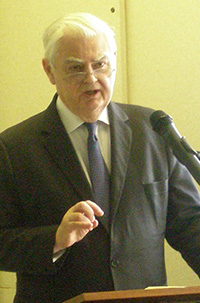 On the 21st February 2014, Our Chairman, Lord Lamont, talked to the Chamber about his recent visit to Iran.

The event was very well attended by members and guests of the Chamber.

Click here to read a transcript of the talk
The BICC, Understanding Business With Iran
The British-Iranian Chamber of Commerce (BICC) will be of interest to anyone involved in the economic relationship between the UK and Iran.
Our website will tell you about: us, our counterpart in Tehran, as well as our services and membership.
BICC Recent News
UK FCO Consults on 'Contract Sanctions' - Click here
Is The US Bullying UK Banks? - Click here
Draft new model of oil contracts unveiled in Tehran - Click here
Click here to read an article, written by Peter Oborne in The Telegraph (19th February 2014), on the banking boycott with Iran.
Please click here for Lord Lamont's article in the FT on 3rd February 2014.
Interesting article by Liam Halligan regarding the business prospects between UK and Iran following recent visit by President Rouhani to Davos.
We congratulate both Ajay Sharma on his appointment as UK non-resident Chargé d'Affaires to Iran and Mohammad Habibollah Zadeh on his appointment as Islamic Republic of Iran's non-resident Chargé d'Affaires to the UK.
Comments On The Iranian Economy - March 5th, 2014
Click here for an Iranian economic commentary from the Oxford Persian Institute.
Next BICC Event
Our next Members' meeting will be on 11th April 2014, in the Ballroom at the Lansdowne Club, FitzMaurice Place, Mayfair, London W1J5JD.
Click here for more information on the event.
24th January, 2014
Please click here to read details of the easing of EU sanctions resulting from the Joint Action Plan, written by Nigel Kushner of WLegal
Trade Restrictions on Iran
BICC requires all Members, as a term of Membership, to observe applicable UN, EU and UK sanctions and recommends that they take account of US and other sanctions law where it might affect them directly or indirectly.
BICC is able to provide understanding of the sanctions and help in compliance.
For a comprehensive view on this subject, please go to our trade restrictions page.